The People | Community | Photos on flickr.cfom | Blog | Vision & Values | Process & Principles
Violette, Lilly, & Sean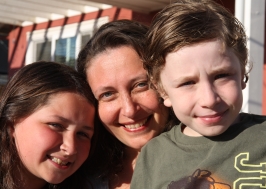 Violet Mullooly is originally from Egypt. She moved to the states 16 years ago. Got her MA in Early Childhood Education in New York City and now runs a day care out of her unit.
Violet finds Fresno Cohousing is home away from home as the closeness, support, friendship and the life style is much similar to how she grew up.
"My kids love it here and i think this is the best place in Fresno to raise a child. It takes a village and I found my village!"
Susan & George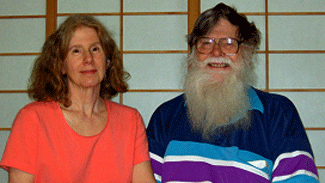 My husband George (Kansas native) and I, Susan (California native), met in Los Angeles. We have lived in many areas of California, including the Bay Area. When our two sons were young, George was injured in an industrial accident. After the boys were in elementary school, I went back to school. We loved the Bay Area, but the housing prices, and traffic/commuting, were tremendous drawbacks to staying. We considered Sacramento, and Fresno, both places where food is grown, there are mountains nearby, housing is comparatively affordable, and there is ethnic diversity. After graduating from law school, first I worked at a large Fresno law firm for 5 years, and then moved to public sector law practice, for the County of Fresno, County Counsel's office.
I originally heard about cohousing in a city planning course about women and children at U.C. Berkeley. We studied employment, transportation, child care, and housing, including an intergenerational cohousing community, in Denmark. While I was in school, we and several of our friends over the years discussed buying an apartment building in which each family would have a separate apartment, but none of us had any money so it never came to pass. When we moved to Fresno in 1988, we bought a typical, single family house on a large lot. It was a nice house in a nice neighborhood, but by 2003 I was wistfully thinking about buying land in a foothill town to build a house in a small town, where we would know our neighbors well, when a newspaper announcement appeared in September 2004, about a gathering about cohousing. I went. We joined the effort. It is now "real" – a real cohousing community. I cannot imagine living anywhere else.

Chris, Jen, Kamryn, Addison, Tessa & Samantha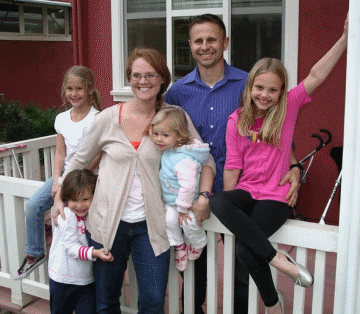 Christopher & Jennifer Schultz
Chris – Pastor at Well Community Church, B.A., M.A.
Jennifer – Homemaker - B.A.
Children: Kamryn, Addison, Tessa and Samantha. Have lived at La Querencia since July 2010.
Active in church, school, and other activities. Love traveling and exercising outdoors and fellowship with others.

Don & Jenny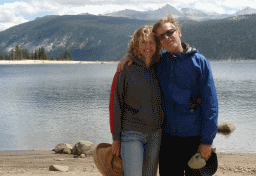 I first heard about the cohousing concept from an article in Time magazine 10-15 years ago. The article described a group of people on Bainbridge Island, WA that had built separate living spaces, but often shared meals together in a large common house, and enjoyed a close-knit community feeling. I wanted to experience living in a community like that, so when I heard about La Q, I decided to give it a try.
I really enjoy life in La Querencia, where there is a lot more interaction and sharing than in the typical American neighborhood. A major attraction for me is the group of people who are in this community; they make great neighbors, and it's a lot of fun having common meals with them on a regular basis.
Background: I grew up in Fresno, but lived in Santa Barbara, Loma Linda, and Cleveland while getting educated. I'm a physician specializing in internal medicine and vascular medicine. I'm married to Jenny, who is a physical therapist working in home health. I have 2 grown children, and Jenny has an adult son. I enjoy running, tennis, singing, and hiking.
Don & Kay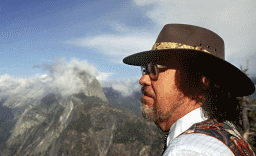 When Don was appointed U.S. Magistrate Judge in Yosemite in 1975 nothing in his legal career quite prepared him for the cases he would see. He had graduated from Oregon State in logging engineering but soon decided he would rather be an attorney. He went to Boalt law school at UC Berkeley and then worked in Porterville and Fresno becoming the chief trial attorney for major murder cases. Something in the Yosemite air seemed to encourage a bit of lunacy in both visitors and employees. Wood thieves would swear that an oak had lain by the road for weeks even though the sap was still running; There was the dine and dash woman and the squirrel lady (both ranger favorites.); the sky divers who would try to impress Don not realizing he had been a paratrooper.

A favorite was the sudden appearance of very high quality camping gear at camp 4. And the several men who just happened to be in the area of Merced Pass Lake shortly after a plane loaded with marijuana crashed. Or the 35 year old woman whose 16 year old son was arrested. She pled so hard for his release that he realized she was his girlfriend, not his mother and they had run off from a juvenile home in Florida.

Perhaps his biggest accomplishment was spending 10 years in hand to hand combat with NPS and GSA to get a courthouse built. No longer did he have to walk out of his "chambers" and pass through prisoners sitting in the hallway to reach his "courtroom". Easily recognized by his long hair, beard, cowboy hat, vest and bolo, Don was never a "typical" judge. He retired in 1994 , moving to Yosemite West where he and Kay have been running a lodging business. When the remoteness of mountain living became more difficult to handle they looked for an area and lifestyle that would work for them. They did not want to move to a perfect McMansion where one drives into the perfect garage and then enters the perfect house without ever interacting with people. Nor did they want to be in with all older adults. They fell in love with the co-housing concept where they have caring neighbors and kids ride their scooters through this safe community.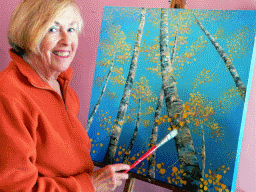 Kay Tolladay Pitts is getting a bit too old to be called an "emerging artist" and still too young to be another "Grandma Moses". She has both undergraduate and a Master's degree in art but concentrated on teaching and consulting in art at all grade levels. The demands of career and a large family have kept her from focusing on developing a body of work until recently. She works primarily in acrylic on canvas or batik, occasionally combining the two mediums.
"I am intrigued with the ambiguities and a few absurdities to be found in Yosemite and many of my works have layers of meaning beyond the surface.
I often begin a piece with only a vague idea of what the finished work will look like. Instead, I allow each piece to grow until it seems complete. Thus, I have not developed a particular style, so each piece is an adventure, for me, and hopefully, for the viewer."
She usually works on site for basic pencil and color sketches, takes numerous photographs for reference and then works in her studio. A finished painting can take upward of 25 hours and a batik at least 30. She and her husband Don have recently moved to a three bedroom home in co-housing. Her studio will be upstairs with north light and views of the Sierra.


Lynette, Larry & Jonah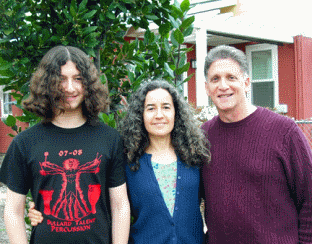 Lynette, Lorenzo, and Jonah Bassman moved to Fresno in 1997 when Lynette began teaching at the California School of Professional Psychology. In addition to her teaching position she maintains a private psychotherapy practice and has published two books. Larry grew up in Virginia and lived for many years in New York City where he attended the Juilliard School. He is the part time acting music director at the Unitarian Universalist Church of Fresno. Jonah is a student at Hoover High School and plays the trumpet and drums. Jonah likes having a pool, exercise room and teen room in cohousing. Lorenzo and Lynette love the energy efficiency of living in cohousing, and having friends nearby.
George & Pat
George Burman and Pat Looney-Burman moved to the Fresno area in 1989 from Hawaii. George began a second career as a high school science teacher and Pat continued her work as a speech-language pathologist. Both George and Pat grew up in small town environments, George in northern CA and Pat in the Midwest, where they enjoyed true neighborhood living. They're excited about living in a real neighborhood again in the cohousing community with their three cats. After attending his first cohousing presentation, George realized that he didn't want to "grow old in a traditional 'senior' residence, surrounded by old geezers complaining about Medicare." Since their own grandchildren don't live nearby, both Pat and George look forward to having a number of surrogate grandchildren as neighbors. George plans to continue his woodworking in the cohousing workshop, and Pat looks forward to learning how to cook for a large group.
Katie, Scott & Julia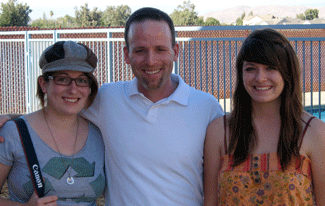 Scott, Katie, and Julia Bentley are all native Californians. Scott moved from Sonora to Fresno in 1986, where he helped out in the family business, started a family of his own, and began an extended college career, which culminated in 2001 with a MSW from CSU Fresno. Scott is currently working as a social worker in an elementary school. He enjoys reading, exercise, hanging out with friends, singing and song writing. Katie came along only a couple of years after Scott moved to Fresno. Katie, now in her second year of college, is excited about her chosen career in nutrition. She enjoys reading, writing, watching movies and spending time with friends. Julia is just beginning her senior year in high school. She enjoys reading, writing, singing and acting. Julia is excited to have been chosen for a lead role in her high school's upcoming musical. The Bentleys are very happy to be a part of the "traditional neighborhood" of La Querencia, believing that living in an environmentally sustainable, multigenerational community is simply one of the richest ways a family might live.
Barbara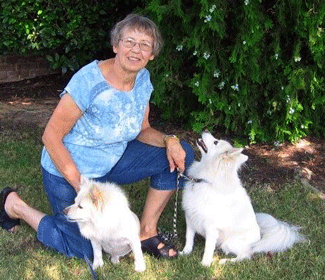 My name is Barbara Cutright and I first heard about cohousing in 2004 and joined a group of interested people in September. I have learned a lot about building community and building green. I was born in Fresno and have lived here most of my life. I retired from the education field in 2001 where I was a teacher, reading specialist and administrator. I have continued to volunteer working with students who are learning to speak, read and write in English.
I am divorced with two adult sons. One lives here in Fresno and another in New York. Kevin is married with one son and another coming soon. Both children are from open adoptions. Tim is engaged to a woman with 3 girls. So I am the grandmother of one and soon there will be five.
I also have 2 small dogs, both American Eskimo. They are adoptions from the local rescue group. Sierra is nine and the princess of the house. Bandit is also nine and lets Sierra be the princess most of the time. Both dogs have been to obedience school and also in agility training. I stopped participating because of my knees, but still have some equipment that we can use for fun when we move.
In addition I enjoy traveling, movies, reading, Sudoku, and love to meet for coffee or a meal. Nature and animals are also interests. I have attended the Draft Horse Show seven times. I have made many trips to the mountains and coast nearby.
I have met such great people in this process of building La Querencia. It seems that people who agree with the two main values of living in community and living lightly on the earth, also are people who appreciate and care about each other. We have added new people over the four years and I have made lasting friendships. We work together to understand different points of view and include them in decision making. I look forward to living out this dream.
Bev & Neil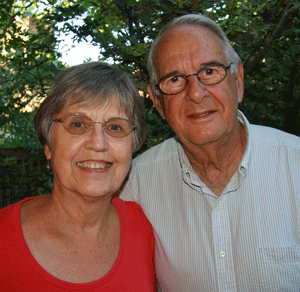 Neil and Beverly Horsley moved from Bakersfield to Fresno in 1958 so Neil could attend Fresno State College on the GI Bill. After Neil graduated he worked as an Electrical Estimator and Project Manager for the next 36 years. Beverly went back to school and received her Masters degree in Speech Pathology in 1974. She worked for Fresno Unified School District for 25 years as a Speech Therapist and Special Ed Classroom teacher. Bev and Neil have lived in their home since 1960 where they raised three sons. They now have five grandchildren and one great-grandchild. They realize that leaving their home, with all its memories, to become part of the Fresno Cohousing Group, will be difficult, but they are excited about this next phase of their lives. They have scaled down their lifestyle and look forward to continuing their retirement in a supportive intergenerational community with a common vision and shared values.
Valerie, Rebecca, Joe & Bryan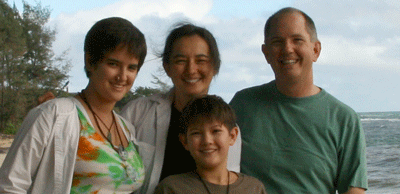 Bryan Syverson and Rebecca Stickler and their kids have lived in Fresno's Sunnyside neighborhood since 1994. Rebecca is a general surgeon working at Kaiser Permanente. Bryan is a math teacher. They met in college in Ohio and lived in Washington, D.C. and Chicago before moving to California. The family hikes, bikes, and cooks together and loves to travel. Joe plays the violin, is finishing at Carden School of Fresno and will attend University High School in the Fall. Valerie is attending grad school at the University of Michigan. She's sad that cohousing didn't exist in Fresno when she lived at home, but she likes to visit so she can cook common meals and help in the garden. Joe likes hanging out with the other teens in cohousing and playing with the little kids, too. Rebecca likes to work hard in the community garden and loves to plan common meals. Bryan loves to cook and bake and enjoys being part of a supportive community.
Barbara
My name is Barbara River and I am originally from New England where I grew up in Massachusetts (Melrose) and then lived in Cambridge for 14 years, 7.5 of which were in a cooperative living house. I then moved on to Western Mass to a small town named Leverett where I raised my son David and daughter Susannah. During most of my years in Massachusetts I was very active politically in different social justice issues. I am an RN and worked at the Brattleboro Retreat for almost twenty years. I was involved in organizing a union while there and was President of the Union for a couple of years. For my last ten years in New England, I lived in southern Vermont where I continued to be active politically and became more conscious of living softly on the earth. Hiking the Long Trail in Vermont with my dog Ben over a two year period is one of my fondest memories.
Ben (a really great old dog) and I came to Fresno almost two years ago, originally planning to stay for just a few months. My daughter and son had both moved to California and Sue had a newborn and a three year old. I wanted to spend a few months working and spending time as a grandma. Luckily, right around the time I was supposed to return to Vermont and leave the kids behind, I found Cohousing. A desire to live in a community or a really involved neighborhood has been an ongoing desire since leaving Cambridge many years ago. As an introvert who often would rather spend time alone reading or working in the garden, cohousing is really the perfect solution. It is a place to watch kids and friends grow and to easily connect to other humans without having to make a big deal of it.
Continuing to work as a psychiatric nurse is a part of being in Fresno but the huge and important parts are the kids and cohousing. The only thing to dislike about cohousing is the fact that we cannot move in tomorrow but the path along the way has always been both interesting and fun.