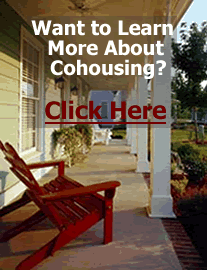 Frequently Asked Questions
(To learn more, you can also read Cohousing: a Contemporary Approach to Housing Ourselves, by Kathryn McCamant and Chuck Durrett. Available locally at Fig Garden Books in Fig Garden Village.)
How is cohousing different from a condominium development?
What characterizes the Fresno Cohousing group?
What are the defining characteristics of cohousing?
If I live in cohousing, will I have my own kitchen?
How does cohousing differ from other kinds of shared living, or intentional communities?
Please tell me about common meals.
How many households will live there?
What determines the price of cohousing units?
What about safety and security?
How many other cohousing communities are there?
Who is Your Professional Team?
What Other Cohousing is under Development in the Region?
Will I have my own solar power?
Does each home have its own kitchen and laundry?
Does the community have city water and sewer?
What schools will my child attend?
What is your participation policy?
What do you mean by "green building"?
What is cohousing? Cohousing is a form of collaborative housing that offers residents an old-fashioned sense of neighborhood. In cohousing, residents know their neighbors very well and there is a strong sense of community that is absent in contemporary cities and suburbs. By participating in the planning and design of some aspects of their housing development, residents form the bonds which are the basis of ongoing community. Cohousing emphasizes a supportive, intergenerational community, and members of a cohousing group generally come together around a shared vision and values.
Cohousing communities consist of private, fully-equipped homes and extensive common amenities including a common house and recreation areas. They are designed and managed by the residents who have chosen to live in a close-knit neighborhood that seeks a healthy blend of privacy and community.
In addition to the obvious social advantages of living near friends, residents may have more free time because many of the routine activities of life can be shared; such as dinners, gardens and yard work. Expensive and/or rarely used tools and recreational equipment purchased by the group can be available to all. Car-pooling is easier to arrange. top of page
How is cohousing different from a condominium development? Legally, Fresno Cohousing will function just like any other condominium development. It will have a homeowners' association, shared grounds and common facilities. But unlike typical condominium developments, cohousing is designed specifically to foster a sense of community. By giving careful consideration to the placement of residences, parking, walkways, swimming pool, play and garden areas, open spaces, and the common house, cohousing maximizes opportunities for neighbors to cross paths throughout the day. Cohousers often will eat dinner together in the common house several times a week. The homeowners' association requirements include community work requirements as well as the usual membership fees. Cohousing is also different from ordinary condominium development in that the residents have come together for the express purpose of building and living in a community together. From its inception, each cohousing development is characterized by this commitment to community. top of page
What characterizes the Fresno Cohousing group? Our particular community has come together around a shared vision based on friendship, trust, and safety. We believe that our commitment to living in close proximity to people we have chosen as neighbors and friends enriches our everyday lives. Our cohousing community also embodies a number of values that we share, including communication, acceptance, personal growth, privacy, fun, teamwork, interconnection, beauty, and a sense of family. top of page
Who lives in cohousing? Those attracted to cohousing tend to be people who have thought about this idea of creating community long before they heard the term cohousing. They tend to be people seeking to improve their quality of life and are willing to help others do the same. People who choose to be a part of a cohousing community come from a variety of backgrounds, income levels, family types and beliefs. What they do have in common is a desire to have a say in how their neighborhood will be and a belief that having more connection with their neighbors will be good for them. In our Fresno community you will see evidence of a sensitive attitude towards the natural environment, reduced home size, sharing of resources and community recycling. top of page
Do I have to like everyone? As in any healthy community, people will be tolerant and respectful toward others. Since cohousing communities usually attract members through a process of networking, it is likely that a high degree of friendship will exist among members. Some people, of course, are very private individuals and may feel comfortable with only a few friends, whereas others will form friendships with everyone in the community. As in other areas of life, individuals will create their own balance between privacy and interaction. top of page
Will I have privacy? Yes! Members value privacy as well as social contact, and it is important to members to have their own homes and private space. There is a common belief that the cohousing arrangement allows for less privacy than traditional neighborhoods, however, this is not true. A unique aspect of cohousing is that the future residents participate in a conscious process of creating a community which will reflect their values. The Fresno cohousing community members value privacy. Our neighborhood design reflects our desire to respect each others need for privacy. top of page
What are the defining characteristics of cohousing?
PARTICIPATORY PROCESS. Future residents participate in some aspects of the design and maintenance of the community so that it meets their needs.
NEIGHBORHOOD DESIGN. The physical layout and orientation of the buildings (the site plan) encourages a sense of community. For example, the private residences are clustered on the site leaving more shared open space, the dwellings typically face each other across a pedestrian street or courtyard, and cars are parked on the periphery. But more important than any of these specifics is that the intent is to create a strong sense of community with strategic design.
COMMON FACILITIES. Common facilities are designed for daily use, are an integral part of the community, and are always supplemental to the private residences. Our common house will include a common kitchen, dining area, large terrace, sitting area, children's playroom, teen room, game room, laundry, workshop, exercise room and guest room. We also plan on having shared green space, playground, pool, spa, and garden area.
RESIDENT MANAGEMENT. Cohousing communities are managed by their residents. Residents also do most of the work required to maintain the property, participate in the preparation of common meals and meet regularly, usually once a month, to develop policies and do problem-solving for the community.
NON-HIERARCHICAL STRUCTURE AND DECISION-MAKING. In cohousing communities there are leadership roles, but no one has authority over others. As people join the group, they take on one or more roles consistent with their skills, abilities or interests. Our group makes some of our decisions using C.T. Butler's Formal Consensus Process, and some by super-majority voting. top of page
If I live in cohousing, will I have my own kitchen? Each home is an independent unit which includes kitchen, dining and living rooms, bedrooms and baths, and individual back yards. top of page
How does cohousing differ from other kinds of shared living, or intentional communities? Cohousing is a unique blend of private homes and shared facilities within a custom-designed neighborhood. Our community has no political, religious, or ideological orientation. The only philosophical expectations are agreement with the principles of cohousing and with our vision and values statement. top of page
Please tell me about common meals. A central feature of creating community in cohousing is "breaking bread" together. Our cohousing community plans to have teams of 2 to 4 people prepare each meal and each adult is involved in meal preparation and/or cleanup once every 4 or 5 weeks. Common meals are priced at cost. Many communities encourage their cooks to provide a vegetarian option at most meals, and special food requirements are respected, although not every one of them will necessarily be accommodated at every meal. top of page
How many households will live there? We are planning to have 28 households in our community on 2.81 acres. Research has shown that this number of units works well; it's large enough to have the resources to build and maintain the community, but small enough to know everybody well. top of page
What determines the price of cohousing units? Our cohousing community is new construction and has very extensive common facilities. Although you may be living in a smaller space than you are accustomed to, remember that you are getting an intentionally designed custom built community. We have a desire to build as "green" as possible, and these money saving environmentally sound materials and building techniques can initially add to the cost. Our architect has worked with us to design our homes to maximize the efficiency of space and energy. top of page
What about safety and security? Because we know all our neighbors, someone who does not belong in the community is very easily recognized. There is more than one person to watch out for the safety of our children, one another and the property of an absent resident. top of page
How many other cohousing communities are there? There are currently more than 100 thriving cohousing communities in Europe. In the U.S. and Canada, as of September 2004, there are 189 recognized cohousing communities in various stages of development: 76 are built communities, 22 are under construction, 8 are retrofitting cohousing into older neighborhoods, 17 more have a site, 19 are organized and seeking a site, and at least 43 new groups are in formation. top of page
Who is Your Professional Team? Our development firm is CoHousing Partners. They have been our partners beginning with the design all the way through completion of construction. They specialize in development and project management of cohousing in California. top of page
What Other Cohousing is under Development in the Region? Wolf Creek Commons, a multi-generational cohousing community and Wolf Creek Lodge an active adult community in Grass Valley, CA, are currently under construction and seeking additional members. Grass Valley is a historic town in the northern Sierra Nevada foothills, about an hour from Sacramento and from Reno. top of page
Will I have my own solar power? There will be solar panels on each individual unit which will offset the electricity bill for individual owners. There will also be solar panels on the common buildings, which offsets costs for electricity that would be realized in our condominium fees. In addition, the extra energy collected would be distributed within our own buildings before going back out to the general power grid where we would get zero cost benefit from the extra energy collected by our solar units. Net effect is that our solar power will benefit us and the La Querencia community with respect to our monthly costs and benefit the environment because we will be self-sustained. top of page
How is water being metered? Water will be "master metered", meaning that the community will share a single water meter located out by the street. Billing will be based on overall usage and by number of units served. Your water bill will be paid as part of your homeowners' association dues. top of page
Can I have satellite TV? Yes. However, no satellite TV hookup is provided by the project, so you must contract with the satellite provider for installation and service. The installation must adhere to the covenants, codes, and restrictions of the homeowners' association. top of page
Does each home have its own kitchen and laundry? Yes. Each home is completely self-contained. Each home has a full kitchen including stove and dishwasher, a dining area and living room, and bedrooms and bathrooms. Except for the 2-bedroom upstairs flats (which have decks), each home has a back yard for that home's exclusive use. Each home has its own washer and dryer hookups; additionally, residents may use the laundry facilities in the common house. After move-in the community likely will build an outdoor clothes drying area. top of page
Who owns the land? Each owner in our project owns his/her unit (sometimes referred to as "paint in") plus an undivided interest in the land on which the buiding in which his/her unit is located. The Overall Common Area is owned by the homeowners' association (to which each owner belongs.) top of page
Do I own my back yard? No, but you do have exclusive use of it. Each unit (except for the upstairs 2-bedroom flats) has an exclusive use easement to the part of the lot that is directly behind the unit, extending approximately 20 feet from the back wall of the Building. Although the owner has exclusive use, the area also is available to the homeowners' association and the other owners of that building for purposes of maintenance checks, painting, repairs, etc. You may make improvements (landscaping, patio, garden, fencing) to that area. You may choose to jointly use your back yard with your neighbors, if you wish. top of page
Does the community have city water and sewer? Yes. The project is within the City of Fresno and uses city water and sewer services. top of page
Will I own a garage? There are 17 separate garage spaces on the site and you may purchase the right to exclusive use of one of these spaces, should you choose. Each space will have its own garage door & electric opener. Our homeowners' association rules do not allow you to use the space solely for storage. Additionally, there are 35 uncovered parking spaces on the site. top of page
What is your pet policy? Up to 4 pets (cats & dogs) are allowed in each home (birds, fish, etc. not counted). Since we must follow Fresno city and county guidelines, no farm animals are allowed. Cats must be kept in homes (an exception is made for current residents whose cat has been an "outside cat"). Dogs must be on leash when outside the owner's home or yard. Owners must clean up after their pets. top of page
What schools will my child attend? Our community is in the Clovis Unified School District. For the 2008-2009 school year: K-6 attend Mountain View Elementary, 7-8 attend Granite Ridge Intermediate, 9-10 attend Clovis North High (an additional grade will be added each year until all 9-12 attend), 11-12 attend Buchanan High. top of page
What is your participation policy? Each and every resident will share the work of the common facilities. These include cleaning and cooking in the common house and maintaining the shared yard, garden, pool, exercise room, etc. A committee will oversee the work activities. top of page
What do you mean by "green building"? Our homes were intelligently designed to minimize our impact on the environment, from the super-insulation in the walls to the low-VOC recycled paint on the walls. Our community, our architect, our project manager, and our builder have all given environmental impact first priority, not just lip service. Click here to read more about our Green Homes. Windows and overhangs prevent direct sunlight from heating the interiors while still allowing for plentiful indirect natural light. Radiant barriers, highly efficient windows and doors, advanced framing techniques, Energy Star appliances, community-wide solar power, and low-water fixtures all contribute to a home that minimizes our use of resources and our impact on the planet. top of page